The Sir Doug Nicholls Round pays tribute to Aboriginal and Torres Strait Islander cultures, their contribution to Australian Football and the Aboriginal players past and present who have inspired generations of Australians.
It is also an opportunity to celebrate Collingwood's 'Stretch' Reconciliation Action Plan and the work the club has been doing for many years with the Aboriginal community.
Our Guernsey
The design for this year's guernsey tells the story of the 1939 Cummeragunja mission walk off, a protest by the Aboriginal and Torres Strait Islander community over the conditions on the mission and their treatment from the government.
It is believed to be one of the first Aboriginal protests against unfair and inhuman treatment is remembered for the spirit, strength and resilience of those involved.
Sir Doug Nicholls and members of his family were among those who left Cummeragunja to settle in areas such as Shepparton, Echuca, Mooroopna, Daish's Paddock and The Flats.
The long-necked turtle is the totem of the Yorta Yorta People. The design on the shell of the top-left turtle represents the sixteen family groups of their nation. The diamonds symbolise the strength and resilience of ancestors and Elders who led the walk off, with the white diamonds representing non-Aboriginal and Torres Strait Islander people who supported the Yorta Yorta community.
The handprint reflects both the youth of the community and Collingwood's support for Aboriginal and Torres Strait Islanders.
The meeting places where members of the community sat and talked before the walk-off are depicted on the righthand side of the guernsey.
The design was created by Ross Morgan Snr a proud Yorta Yorta man, and his sons Ross Jnr and Wayne , who grew up in their traditional country around Shepparton and Mooroopna.
Schedule
Monday: Digital launch of jumper and story of design.
Tuesday: Story of jumper design and support for Free The Flag detailed in nationwide media update.
Thursday: Deb Lovett to address players and staff about FTF at noon.
Thursday: Players to wear FTF T-shirts at afternoon training session.
Thursday: Darcy Moore will conduct post-training press conference in FTF T-shirt
Thursday: Travis Varcoe to appear on AFL 360 program on Fox. Jumper will be on display in studio through interview.
Monday: Welcome to Country ceremony pre-match at Gabba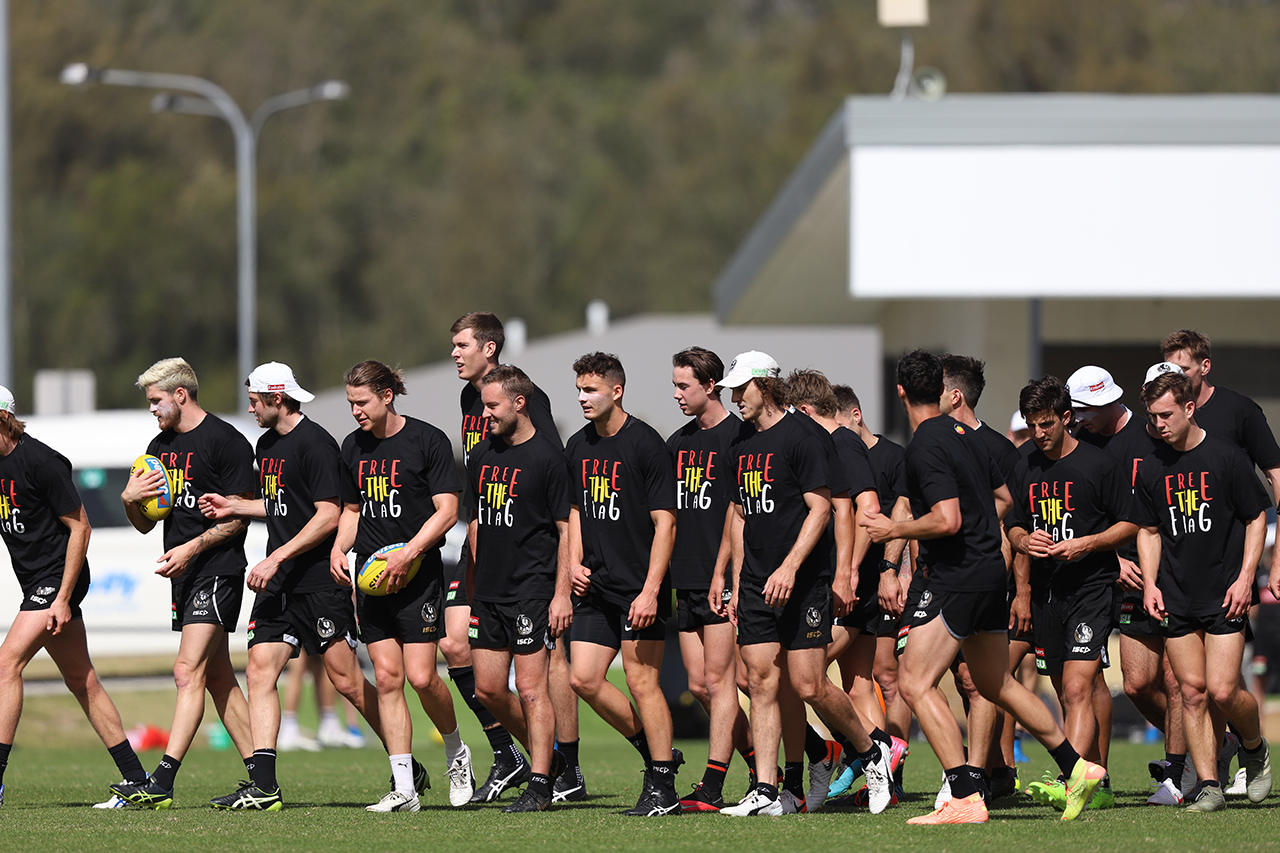 Free the Flag Campaign
"Collingwood supports the Free the Flag Campaign and recognises that the Aboriginal flag is one of Australia's national symbols and a central part of First People's national identity. The Aboriginal Flag was proclaimed as a National Flag of Australia in 1995 and should be free of copyright restrictions like all national world flags. It is our hope that the flag can continue to play a unifying role with people and communities right across Australia."