The AFL recognises and celebrates Aboriginal and Torres Strait Islander players and cultures each year, with the Sir Doug Nicholls Indigenous Round.
Sir Doug played 54 games for Fitzroy, served as Governor of South Australia, and was devoted to the well-being of Indigenous Australians.
During the round, all clubs wear an Indigenous-themed guernsey.
2021
Design by Dixon Patton
The design shows both magpies flying onwards and upwards, with outstretched wings, reaching new heights and possibilities.
Magpies are nurturers who guide their young, playing a role similar to that of teachers, elders or respected persons. This guiding role is important to Aboriginal communities and families. We learn, listen and adhere to the teachings of our old people. Cultural practices teach values, and are learnt through connecting to stories, song, land, people and community and it guides everything that the community does.
The background pattern of the design features gum leaves which represent cultural and personal growth. They meander like a river formation, signifying pathways and life's journey. Gum leaves are significant to the Traditional Owners, the Wurundjeri of the Kulin Nation, whose land Collingwood Football Club is a part of. The leaves are used in 'Welcome to Country' ceremonies and are extended to guests as a gesture of 'Welcome'.
2020
Design by Ross Morgan Jnr, Wayne Morgan and Ross Morgon Snr
This year's guernsey, which highlights the Yorta Yorta culture, was designed by Ross Morgan Senior and his sons.

The story behind the design comes from the the Cummeragunja Walk Off, which was a protest by Aboriginal people at Cummeragunja Station. It is remembered as an act of strength and resilience.
Ross Morgan Snr says,
"All well-known Aboriginal artists who grew up on their traditional country in The Shepparton, Mooroopna area, have been involved in their cultural storytelling, music and art for the last 30 years. Hand prints of Emilio Hudson don the back of the guernsey.
The paintings story comes from one very special event which we believe to be the first Aboriginal protest against unfair and inhuman treatment to our people by the then mission manager.
The Cummeragunja Walk-off is remembered as well as the journey, strength and resilience of our ancestors and now Elders.
Their SPIRIT will always be the strength in all our further endeavours moving forward."
2019
Design by Lee-Anne Miller
The story behind the creation of the 2019 Indigenous jumper belongs to Travis Varcoe and his family.
The design tells of how friends, Collingwood and the broader football community wrapped themselves around the family following the death of Travis' sister, Maggie Varcoe.
Maggie passed away in September 2018, several days after being injured in an on-field collision. Travis wore his sister's name on his arm as he played through the finals that followed.
The story has been re-told through the art of Lee-Anne Miller, sister of Travis's partner, Kim.
"The way the club supported me and my family last year, through that time when my sister passed, is what inspired it," Varcoe explained.
"I think it's beautiful. For the way it looks and for the meaning behind it.
"There are four layers to it. The inner circle represents the players I'm surrounded by every day. The next circle of dots is all of the people outside of the playing group who support us and enable us to perform at our best, especially in tough times.
"The circle outside of that is for the friends and family we rely on so heavily for their love and support and then there is the fans and the Collingwood community who glue it all together.
"It brings together all of the elements of being a Collingwood person and acknowledges them for their support in good times and bad."
2018
Design by Mick Harding
"The Magpies have got a great song. I liken it to sort of a modern day opera or rock and roll band. They've got a beautiful song," Harding explained.
"And all the other surrounding stuff around it represents the possum-skin cloak. Our people have been wearing possum-skin cloaks for thousands of years. I used to make marngrooks out of the possum skins. It's about our identity and about sharing that with everyone else in the community.
I suppose I didn't really need a lot of inspiration, being a mad Collingwood supporter since I was a little boy."
Hailing from Gippsland, Harding is a proud Taungwurrung man. As a keen cultural heritage ambassador, his experience includes sitting on the Victorian Aboriginal Heritage Council, Native Title Services Victoria board and his own Taungwurrung Clans Aboriginal Corporation.
Harding said, "When I create something I express my cultural integrity in place, be respectful of interpretation of my culture, and try to share my story as a Taungwurrung Kulin (Aboriginal man from my traditional country)."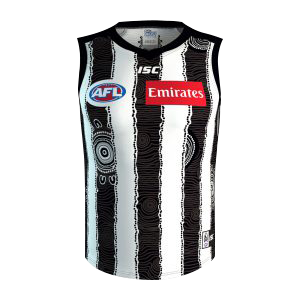 2017
Design by Elaine Chambers-Hegarty
"The lines in the background of the design represent the journey a player may take to get to this level of AFL, with meeting places along the way to represent other Indigenous players from other teams and the sacred grounds they work and play on," Chambers-Hegarty explained.
A proud Aboriginal woman, born and bred in Brisbane, Chambers-Hegarty has family links to the Koa People of Winton area in QLD as well as Kuku Yalangi. Her parents' families were taken and grew up 'under the Act' on Cherbourg Aboriginal Settlement in SE Queensland. They followed their dreams and moved on to Brisbane.
Elaine says, "I am so proud of my family and the creative work that they produce. Sport is always a big thing amongst our people as well. When I saw this competition I thought what better way to promote my art than on a guernsey in one of the top sports of our country? I've never been to Melbourne, so this experience is extra special to me."
2016
Design by Nathan Patterson
The story behind the design is the recognition of past and present Indigenous footballers that have played for Collingwood.
"It was important to represent the attacking Barrawarn (magpie), as these birds are extremely territorial, extremely loyal and fierce, these birds do not give up easily," Patterson said.
The design also recognises all Indigenous players to have pulled on the black and white stripes throughout Collingwood's 124-year history.
The circles within the dots symbolise the range of Indigenous communities these players originate from, with the Collingwood Football Club's traditional home of Victoria Park represented as a mutual meeting place.
2014 & 2015
Design by Dixon Patten
The circles within circles represent Indigenous and non-Indigenous communities, as they come together to celebrate the Indigenous Round.
The football motif is depicted, as they are coming together for the love of the game.
The hands depict Collingwood's athletes reaching high.
"The semi-circles depict our old people (ancestors) guiding them on their journey and the boomerang shapes are placed to mimic the fast-paced high energy movement in the game of football," Patten explained.